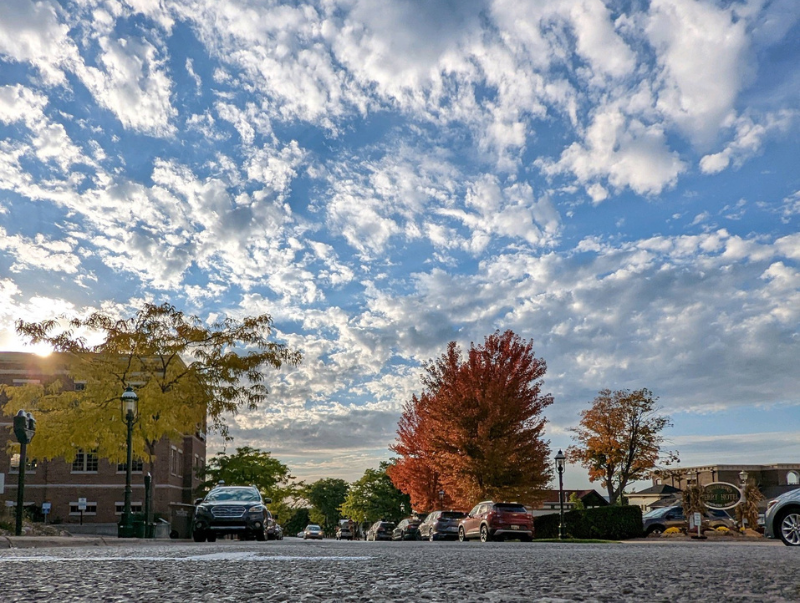 I think we can all agree that we've lucked out this fall. Yes, we had rain, and yes, we had some early cold mornings; however, the sheer amount of blue-sky and sunshiney days has been a Northern Michigan blessing, especially as we prepare to roll into the darker, more frigid time of year that sees less of our sunny overlord and its glorious vitamin D. 
Walking the streets of downtown, I smell the wafting aromas of caramel from Kilwin's and Murdick's, the sticky sweetness of Tillie's Tafel, and the brewing of coffee from one of our three popular coffee shops—North Perk Coffee, Roast & Toast, and Populace. Not that you don't smell these delicious scents year-round, but something special occurs at the onset of fall when coupled with crisper air, the crunching of leaves, and the changing colors.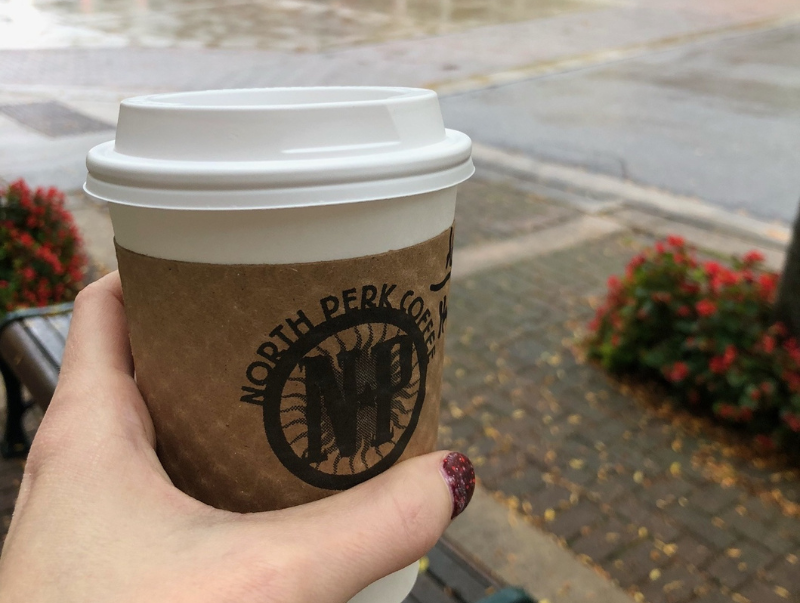 Some business owners may find the seemingly never-ending onslaught of tiny yellow leaves fluttering across their section of sidewalk and drifting into their premises a nuisance, but I view them as nature's ellipsis leading into a new chapter. And a short-lived chapter at that in Petoskey. Autumn's endurance is limited this far north, and we must enjoy the vibrant reds, oranges, pinks, golds, and yellows of the flora before meeting firmer seasonal punctuation—snow.
Gorgeous fall days make me slow my walking pace while I traverse E. Mitchell Street—which is saying something. I enjoy the delicate sound of crisp leaves beneath my heels; and pause longer to look in shop windows, like those of McLean & Eakin, Grandpa Shorter's Gifts, and Meyer ACE Hardware, to appreciate their autumn window display artistry. I partake in a few extra seasonal drinks at North Perk Coffee than I usually allow myself (the Autumn Harvest is a particular favorite and comes with my full honey-loving endorsement).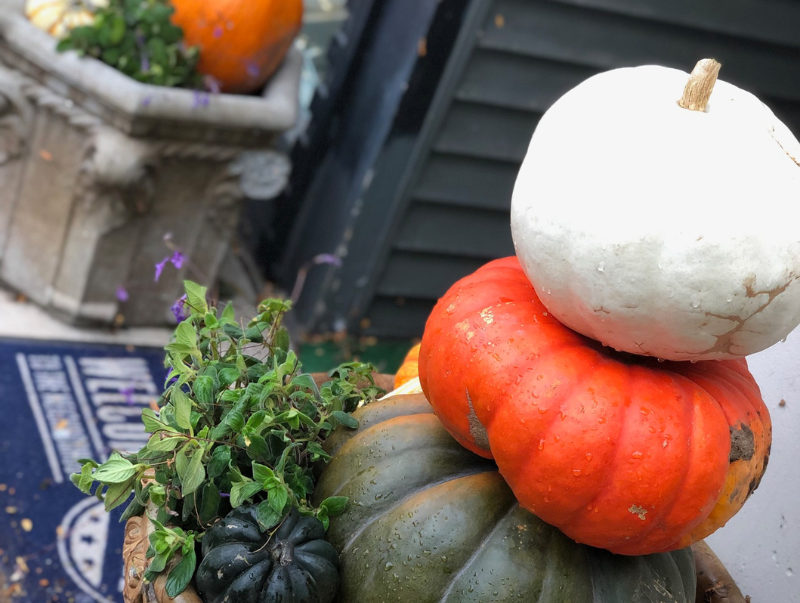 Speaking of shops and stores, everyone is gearing up for the annual Downtown Petoskey Children's Halloween Parade and Trick-or-Treating that's set to take place on Saturday, October 29. The parade lines up at Central Elementary School at 9:45 a.m. and marches down Howard Street to Pennsylvania Park in all its spooky glory! And this year, the Downtown Trolley and Daniel Tiger will serve as parade marshals leading the way. Then, until noon, costumed children will be trick-or-treating throughout the downtown area. Consider coming back Downtown in the evening for the Jack-O-Lantern Walk, where, if you like, you may enjoy your cocktail, purchased in the Downtown Social District.  Take a stroll through Pennsylvania Park to see the carved and lit pumpkins sponsored by the Y of Northern Michigan.  Much preparation is taking place.
Stocking up on candy and allergen-free options, decorating, and pulling together fun staff costumes is a lot of extra work on top of the usual routine for any downtown business, but this is a tradition Petoskey loves. Even with many seasonal residents in town and weekend visitors keeping the streets and stores busy, businesses are finding the time and energy to do their storefront justice! The days I'm working or walking downtown, I'm amazed by how many pedestrians and vehicles I see strolling about and cruising around. After years of experiencing a "slow time" once Labor Day had passed is a thing of the past—the state, Midwest, and perhaps even the country have finally caught on to how beautiful Northern Michigan is in September, and the people are staying or coming to enjoy it. Of course, October has always seen an uptick in visitors due to fall colors, but many remain through the final summer hoorah, and Downtown is enjoying the company.
Our street signs and lampposts are bedecked in corn stalks, gourds of many colors dot storefronts, and those little golden-yellow leaves punctuate your steps along the sidewalk and street. Fall officially arrived on September 22, so we all remember–thanks to Earth, Wind & Fire–the 21st night of September being the last day of summer. And now, firmly settled into October, it's obvious that autumn holds the prevailing winds in our quaint downtown.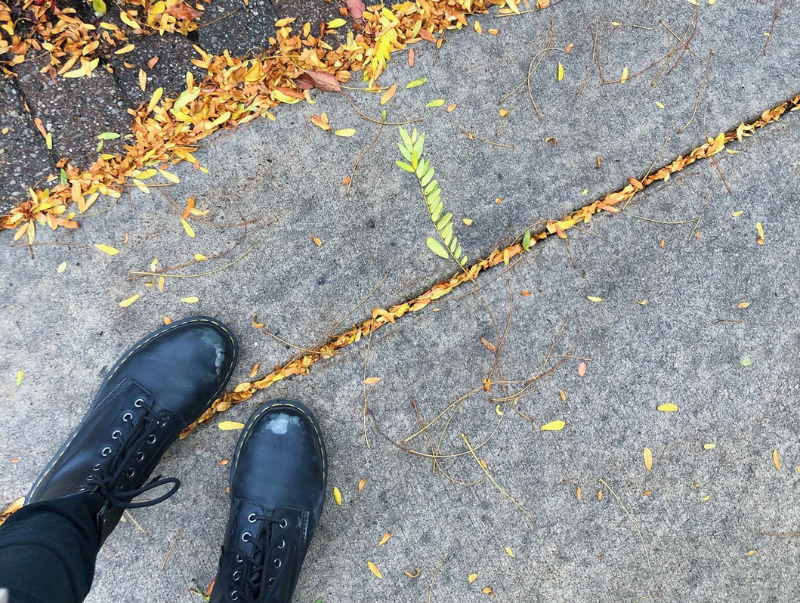 So, while the weather maintains this current course, take a crunchy leaf walk, snag a warm drink, sit outside in the sunshine at the Back Lot for lunch while you still can, and prepare for the upcoming spooky Saturday where little superheroes, princesses, creepy creatures, and pop culture favorites roam the streets with a candy-driven purpose. It's one of the most fun mornings of the year in Downtown Petoskey.
I hope you get to pass out candy or join a niece or nephew on the Children's Parade before trick-or-treating starts—the excitement of little ones all dressed up and proud of their costumes with glee painted across their faces is a sight to behold—as is the sugar crash later that afternoon. I'm just hoping kids don't have to wear winter coats over their costumes this year—fingers crossed for a sunny autumn morning in our beautiful downtown gaslight district!