October 11, 2017
Autumn is at its finest in Downtown Petoskey whilst window boxes are bedecked with mums in full bloom, lampposts wrapped with corn stalks, and multitudes of pumpkins and gourdes adorning the streets. And then there are…there are…(gulp) haunted scarecrows! Yikes!
The usually quiet autumn streets of Petoskey have been taken over by scarecrows! They're everywhere. They're every shape, size, and color. Some even as tall as fifteen feet. In fact, you can't walk anywhere without being followed by straw talons and jack-o-lantern grins.
Along Lake Street, The Sunglass Shoppe has a cute "Patti Pots" made from terracotta flower pots. In front of Shorter & Son Mercantile, there are two pairs of familiar legs with shoes in the air. The stockings similar to those of the Wicked Witch of the East upon whom Dorothy's house fell. Haystacks clothier has a well-dressed scarecrow with multicolored hair and a puppy perched on her shoulder.
Glass Lakes Photography has a very robotic chap in resort wear holding a camera. Northgoods has the tallest one of the lot. Huge green feet help to prop a long torso topped with a pumpkin head and arms reaching over the first-floor ledge and awning. Even Petoskey Plastics has a door guarded by a Tim Burton, "A Nightmare Before Christmas," rendition. Creepier yet is Stafford's Perry Hotel and the couple sitting at a cozy table outside the Noggin Room Pub. The straw streaming from coat sleeves and pantlegs is rather elegant, and the plastic food is to die for. And if you've had a little too much at the bar, don't walk out and offer them a cigarette. They'll be gone in a flash.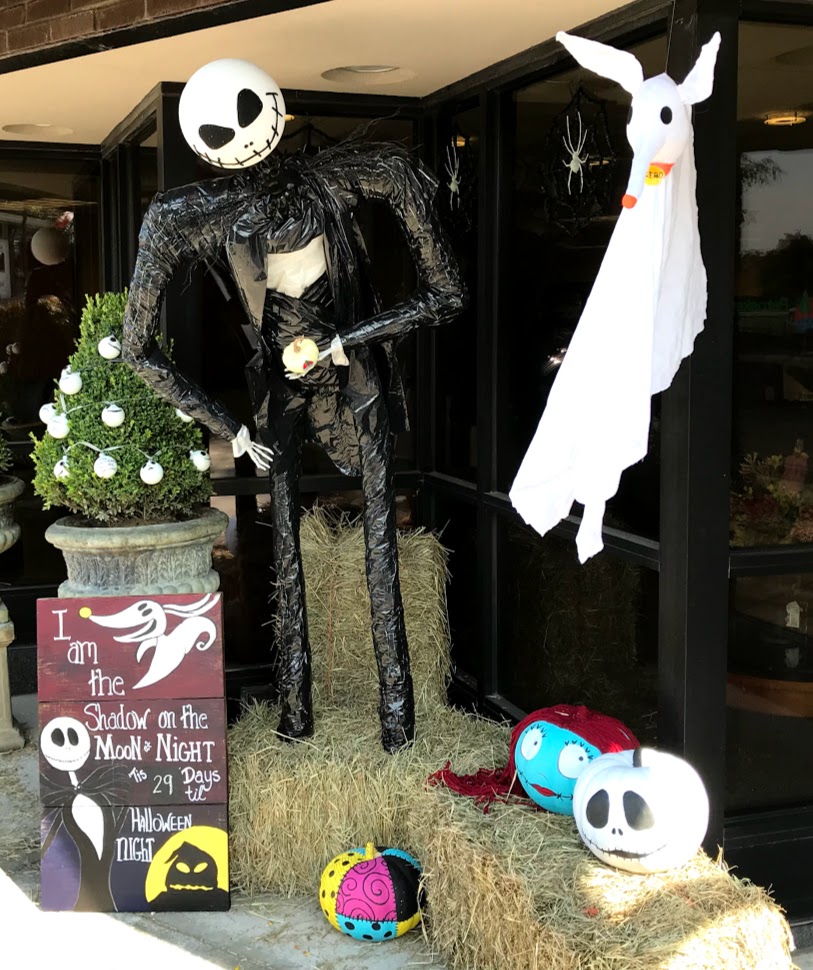 Wander up Howard Street, and look at Mettler's wool clad straw farmer. Over at Symons General Store, Stephanie has created a dream-come-true. Imagine, as a kid, peering into your Halloween candy bowl after the night is over and wanting to jump in and soak up all the candy at once. Well, Stephanie captured that dream in a sculpted body dressed in Smartie leggings, Tootsie Roll sleeves and a shirt made of a Reese's Cup.
Up on Mitchell Street, and not to be outdone, the Chamber of Commerce has what looks to be Carlin in a cape and an orange resort tie designed with sailboat prints holding a "#1" foam hand. Wait, that's not Carlin. He'd have a different tie on. Across the street, 1st Community Bank has a scarecrow that obviously woke up on the wrong side of the ledger. Looks like he got upside down on his balance sheet.
Even the stores without scarecrows have imbibed in the season. Monarch Garden and Floral Design has bladed windmills of the past surrounded by flowers and autumnal décor. There's no scarecrows, well, unless Brian or William are standing out front. Next door, Reid Furniture harbors a homespun fence with maple leaves and lights. Back over on Howard, Meredith Brown says Kilwins doesn't need a scarecrow. "It's got me," she says. But the aromas and tastes are certainly a draw.
Experience one of the greatest color extravaganzas you'll ever see in and around Downtown Petoskey. Find the scarecrow you like best and place your vote. Don't worry. They don't bite.