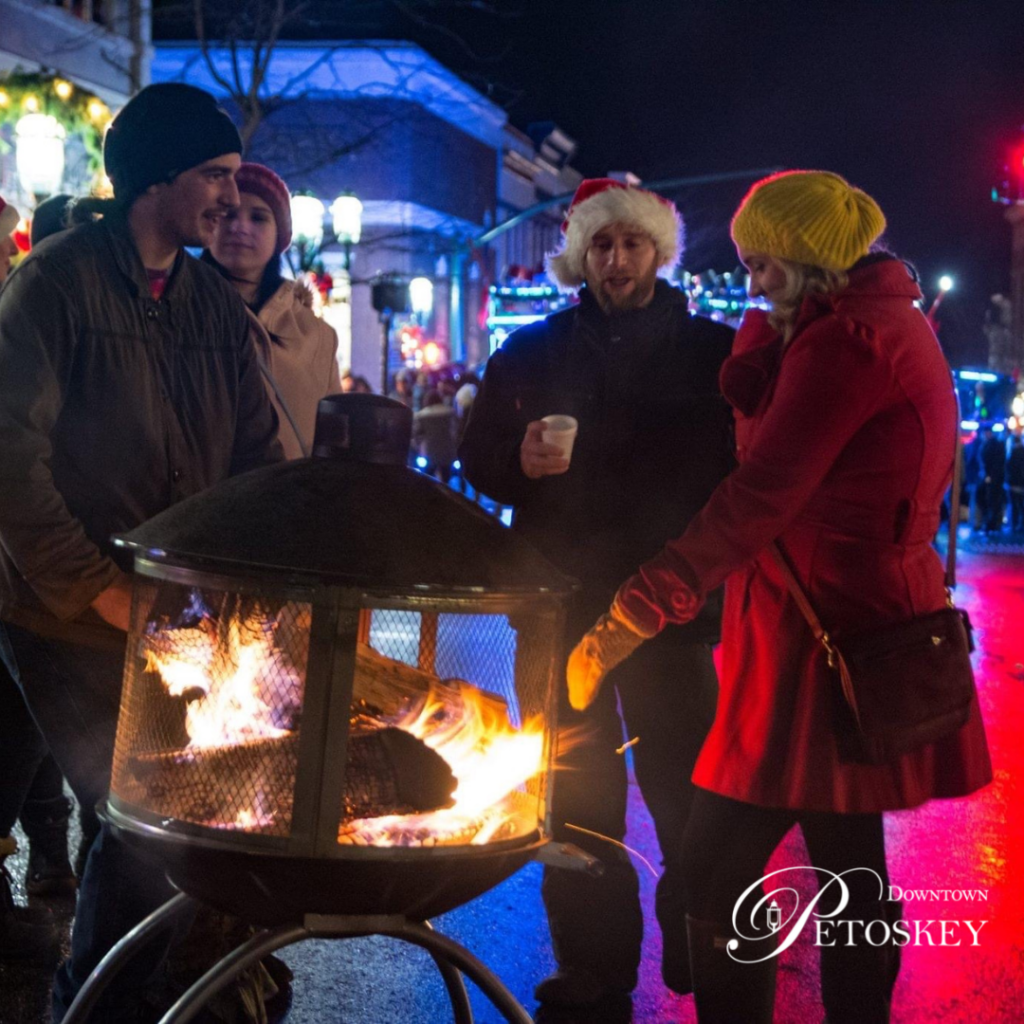 When you hear the word "cozy," what comes to mind? Perhaps you associate "cozy" with warmth, comfort, a crackling fire, heated beverages, and fluffy blankets like I do. Additional cozy elements may include a good book, a snuggly animal, or a couch buddy, but these are merely suggestions and not requirements for achieving peak coziness this November.
Another way many of us get into the cozy vibe of the season is by holiday nesting. Holiday shopping, decorating, preparing holiday cards and gifts, menu planning for gatherings of friends and family–many of us can enjoy solitary coziness, but preparing your home for the cozy vibe of the holiday season is another thing entirely.
Whether you need fresh decor, evergreen greenery, host/hostess gifts, holiday cards, presents for loved ones, or victuals for noshing and nibbling, Downtown Petoskey's varied array of shops and boutiques has got you and yours covered this season.
Symons General Store and Petoskey Cheese are ready to serve up the best for your holiday gatherings when it comes to charcuterie boards or recipe ingredients. Cutler's and NorthGoods are brimming with fun gifts for anyone on your list. And, if you need a new outfit for an upcoming family gathering or holiday party, pop into PEcado, Vintage To Vogue, or Boutique Boisson–all three boutiques are stocking up to offer the best of the season's fashion.
If you're looking for a fun way to enjoy coziness indoors and out, consider doing your shopping on November 18, from 4 – 8 p.m., during Ladies' Opening Night. So make an evening of it and get some friends together to start the holiday shopping season off right! Downtown Petoskey stores will be open late, you'll have the opportunity to win Downtown Dollars, and stores will have delicious food and drink for you to snack on as you peruse and shop–what more could you ask for?
You can also achieve coziness by bundling up, grabbing a warm drink, and taking in the cheerful scene of the Downtown Petoskey Holiday Parade on November 26, starting at 6 p.m. This coziness is all about maintaining toastiness out in the chilly air, which is entirely doable as long as you have your hat, gloves, scarf, and a hot beverage, and you're participating in the festive activities taking place in Pennsylvania Park for "Light Up the Night." Family fun, including cookie decorating, writing letters to Santa, and a designated photo area, kicks off at 5 p.m.
Then, the annual Holiday Parade starts at 6 p.m., with Santa Claus and the Petoskey High School Marching Band and the Downtown Petoskey Christmas tree lighting at the corner of East Mitchell Street and Howard Street. It's a Petoskey tradition–don't miss it!
And don't forget about Holiday Open House–the coziest and cheeriest outdoor event of the year! On Friday, December 2, from 6 – 9 p.m., the Downtown area will be brimming with hospitality and shopping opportunities, plus live music, food, drink, and all the holiday buzz you've come to expect from this annual event. Greet friends and neighbors and absorb the glow of streetlights and string lights throughout Downtown Petoskey. It's a magical and much-loved community event.
We hope you join us in one or all of these upcoming holiday events that will surely bring cozy warmth to the cockles of your heart. But we won't blame you if you choose to remain cozy at home in front of the fire with a blanket, a book, and a snuggly pet. Just remember, McLean & Eakin has excellent books to hunker down with, so you might need to venture out at some point and check out their new holiday releases–just sayin'.