Winding my way to the doorway of my downtown studio, I weave through and dodge the throngs on the sidewalk. July has arrived and so have the guests. Everything we've been contemplating regarding an onslaught has materialized. There are people in places I have never seen people—back alleys and walking from streets away (free parking). The post-COVID time is upon us.
I have heard from some barkeeps and food service folk that some supplies are short, as well as staff, but they are making do. So far, no real complaints other than sighs, but also an understanding of the post-COVID shortage issue.
The parade and fireworks took place thanks to petoskeyfourth.org, Crooked Tree Arts Center, and primary sponsor Grandpa Shorter's Gifts, and the streets in Downtown Petoskey were packed well into the wee hours of the morning.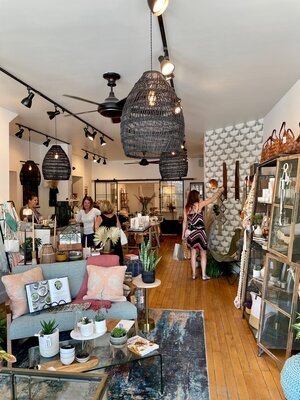 Later in the month, a jovial return of Art in the Park on July 17th – sponsored by the Petoskey Chamber of Commerce – and then the annual Downtown Petoskey Sidewalk Sales on July 30th and 31st. This is a highlight event of the summer, and we are excited to announce its return. The streets will be cordoned off for foot traffic while the storekeepers fill up spaces with surprises.
And an observation: the aura of the visitor seems more accepting this summer. More at ease, let's say. Perhaps the burdens of 2020 having been shed, there is a mindfulness not seen in many a year. A mindfulness toward enjoying the moment at hand. In any case, the relaxed atmosphere is a nice change. A testimony to this hypothesis came outside Kilwins on Howard Street. I had finished talking to owner Meredith after she scooped my favorite toasted coconut into a waffle cone, and people outside were moving slower. They were waiting in lines but not complaining.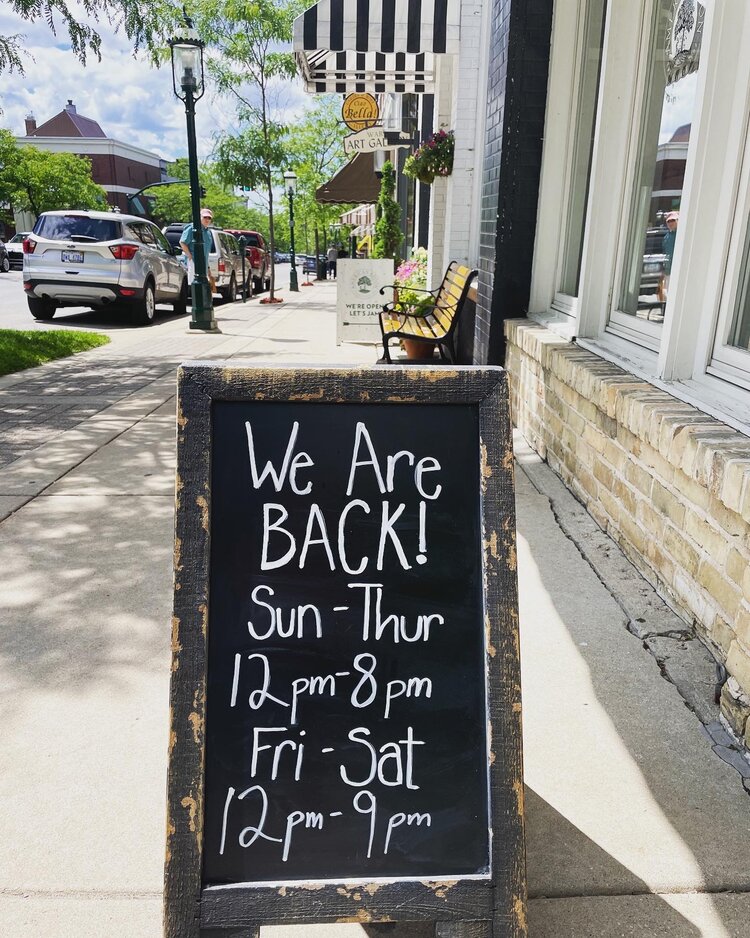 These are the days we do not feel small here. Sure, there are lakeside towns and cities much larger, but for this middle of summer period, long lines of cars stretch through Bay View and back up toward Harbor Springs. You think twice about jaywalking or strolling across the street against the light. The normal bar seat at your favorite watering hole is always occupied. Lines emanate from coffee shops and eateries. We feel bigger than we are. The juxtaposition is astounding: Most are up on vacation or time away from their regular life, while the townsfolk and employees are at the peak of their routines. Vacuum's whir and mops slop in the morning. Exhausted staff lock doors at night glancing at watches knowing tomorrow is a repeat. Delivery trucks ply the empty roadways in the waking hours of dawn. Even the birds change routines.
Yet, the breezes flow over the bay and the town cools through the torrid pace. And with that being said, a little-known fact has arisen: With all of the climate extremes rapidly changing the living conditions of places around the U.S.A., suddenly small Great Lake lakeside towns are a "thing." They are a place to be.
And deciding to be here, in Downtown Petoskey, is exactly why Natalie Lauzen opened "Flora Bae Home." This "botanical/apothecary/entertaining" themed shop claims, "ninety percent of its contents are from women owned businesses."
The alluring aromas of lotions and candles will draw you inside before you are captured with the variety of "things to treat yourself."
To prove that point, as Natalie and I talked, a mother and daughter from Indianapolis came sauntering through; and daughter, Natasha, shared with me that they walked in because she said, "this would be a good store."
Flora Bae Home's enticing location is at 209 Howard Street next to Gaslight Realty and Chandler's – A Restaurant.
Returning to a post-COVID normal is here. Returning to a society more curious about its future is revealing. Summer as we knew it is back in Downtown Petoskey. Enjoy!