As your-man-on-the-street the last several years, I've noticed the influx of canines cavorting around our town. Much like their human counterparts, curiosity abounds, and barks erupt, but for the most part, well behaved pets seem to be commonplace.
Thus, the walk to visit Gary Albert owner of Ruff Life at 309 Howard Street in Downtown Petoskey. In a perfect location between Mitchell and Lake, Ruff Life edges on Pennsylvania Park where many a pooch likes to parlay human behaviors. To accommodate such four-footed meanderings, Gary stocks his shelves and displays with toys and treats galore.
"Those are really our best-selling items, toys and treats," notes Gary.
I then posed the question of why so many dogs the last few years.
"When my kids left the home," Linda begins as she stands behind the counter, "I wanted a little buddy."
It is not unusual to see chihuahuas in carriages, a baby basset in a backpack, or a little pug in a purse. People from all walks of life are walking dogs, in some form or fashion.
"I think people see Petoskey as a dog-friendly town," says Gary. "I think if there was a dog park and more places accommodating pets, we'd see even more people."
The dog park seemed to be the big idea, here.
"We really could use one," Gary pressed.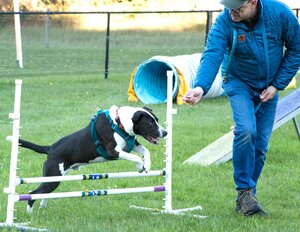 As we talked, I was in awe of how people shop Ruff Life like my parents and grandparents shopped a department store. There are colorful collars to capture your eyes; food to fill a pet pantry; and of course, the vaunted dog lifejacket. Don't think my neighbor's two labs would go for one of those. People handled and touched the merchandise, and either Gary, Linda, or Mike was there to assist.
After growing up in the area and returning from an eighteen-year stint in Chicago, Gary described his desire: "I wanted to create a customer experience and a specific inventory that would bring returning guests to downtown."
"We also work with the humane societies in Charlevoix and Emmet Counties. Emmet has a clinic, now, a daycare, and boarding. We sponsor or donate product to them, as well," Gary adds.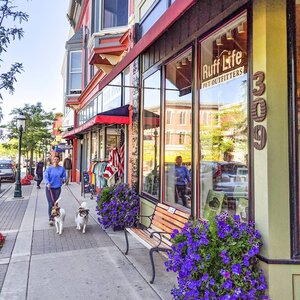 The assist does not stop with the humane societies. Through www.rufflifepet.com, the store also offers information on local resources to anyone wishing to visit Petoskey. The location of clinics, animal hospitals, what lodging accommodates their pets, and an email, info@rufflifepet.com, is available so the store staff can answer questions or more specific requests.
"We've been open since May of 2012," Gary says with bright eyes. "And over the last thirty years, dogs have become like a member of the family."
With Ruff Life a part of the Downtown Petoskey family, there is certainly a store for everything along the sidewalks. Step into Ruff Life and say hi to "Scooter" and "Jack" the two real store managers. Peering up from his doorway century post, "Scooter" will let you know you're being carefully watched.