Downtown Petoskey is a quaint and vibrant shopping and dining social district, complete with one-of-a-kind boutiques, restaurants, bars, and regular live entertainment – this we all know and love.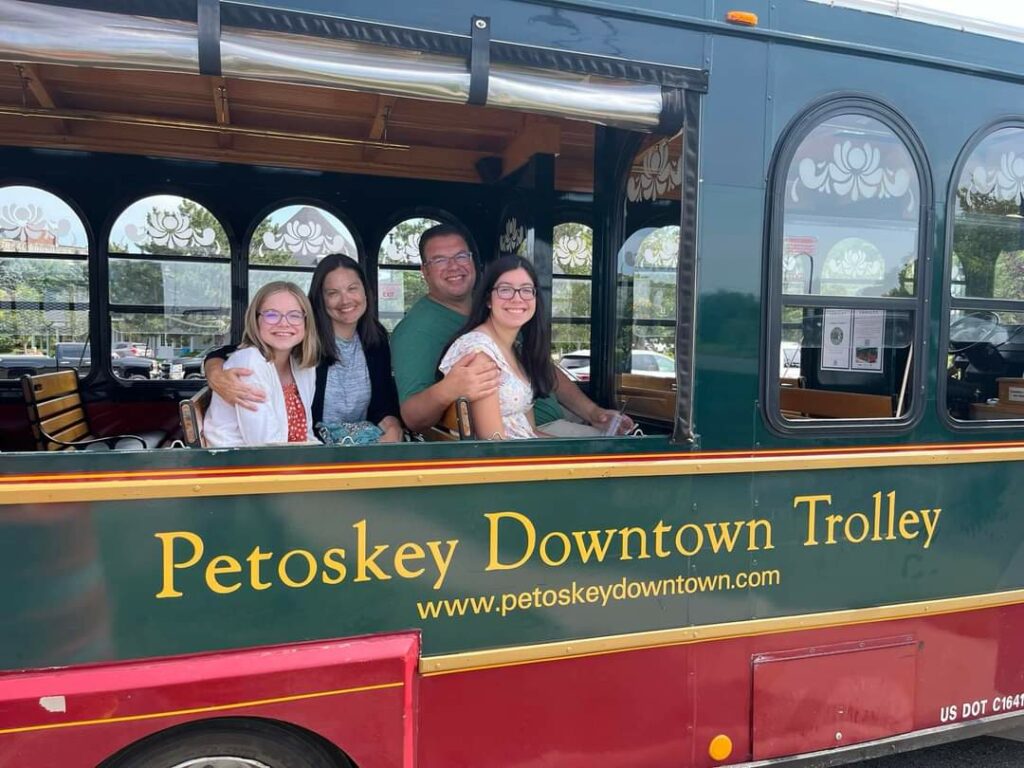 Something we might not love is the heavy flow of vehicular traffic that traverses the district from Memorial Day through the fall colors. And yes, before someone's hackles rise because they think that comment is anti-tourism or anti-support-local, all I mean is that it's not fun attempting to parallel park on East Mitchell Street during such a busy season. I start sweating at the mere thought of such an endeavor, and I give props to those who throw caution to the wind and pull that kind of move. My proverbial hat is off to you!

If you share my non-affinity for parallel parking, or if you would rather not deal with a car at all in heavy traffic areas, there's a nifty solution that has made its return to the streets of Downtown Petoskey after a three-year hiatus – the Downtown Petoskey Trolley.
On July 1, the trolley hit the road, running seven days a week, transporting both locals and visitors to a variety of destinations, including the Petoskey State Park, Stafford's Bay View Inn, the Bay View Library, the Downtown Gazebo, Stafford's Perry Hotel, the Petoskey Museum, the City Marina, and Magnus Park. To maintain this full schedule, the Downtown Management Board (DMB) hired four CDL-certified drivers who all have their passenger endorsement and are very familiar with the area.
"All of the drivers are local, including a former teacher and a former mayor, and are happy to share stories with passengers. They have brushed up on the actual history of the town as well," shared Becky Goodman, Downtown Director.
So, much like the trolley rides in far-off San Francisco, trolley rides in Petoskey are fun, educational, and a bit hilly!
Now, as much as it feels like it has a longstanding historic tie to the district, the trolley has only been a Downtown Petoskey feature since 2012, when the DMB accepted the trolley from Stafford's Hospitality as an experimental venture. The original mission of the trolley was to bring people downtown without them having to drive and park – allowing individuals to maintain their vacation state of mind hassle-free. The trolley currently rolling through town and patronized by wedding parties, seasonal residents, and families has been with the community for six years and was purchased from the Mackinac Old Time Trolley Company in 2017. And a great thing about the trolley, aside from its accessible schedule, variety of stops, and fun experience, is that anyone can ride it free of charge! Who doesn't like free transportation to some of the area's coolest spots?
"Over the years, we have received nothing but compliments about the trolley. Our guests seem to really love the experience, and many ride it as much for the experience as for the transportation," said Goodman. "The Bay View community, in particular, loves to ride the trolley into Downtown for their shopping trips and, because many of them are here for the entire summer, they have friends and family visit who also enjoy a trolley ride. I have received many calls from Bay View grandparents over the years, checking the trolley schedule because they want to take a grandchild on a ride."
A fun experience and a seasonal offering in the Downtown area, the ever-popular trolley will continue with a condensed schedule now through October 15 – running Thursdays, Fridays, and Saturdays, from 10 a.m. to 8 p.m., and Sundays, from 10 a.m. to 3 p.m.
Even though the days are growing shorter and a tad cooler, why not grab a hot drink and hop aboard the trolley for a ride? I just might see you there, avoiding the parallel parking spots and soaking up the early fall weather and picturesque scenery of the Little Traverse Bay Area!