Kool & The Gang said it best: "Oh, yes, it's Ladies' Night // And the feeling's right // Oh, yes, it's Ladies' Night // Oh, what a night."
It's the time of year when hunters take to the trees and non-hunters stroll the streets – it's rifle opener and the corresponding ladies' night.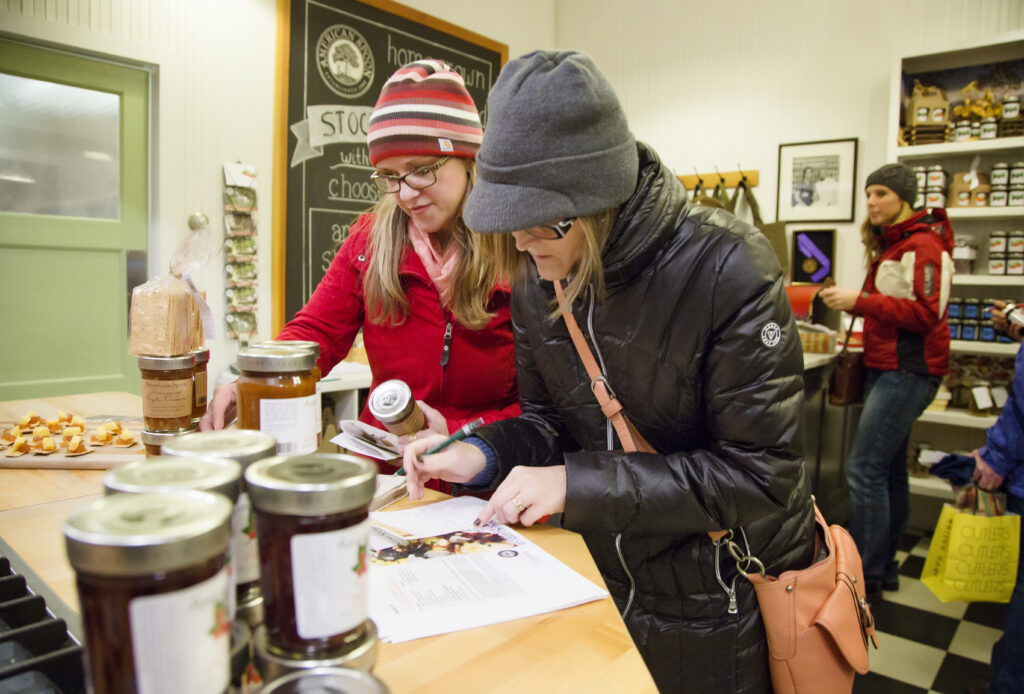 And, oh, what a night it will be! Friday, November 17, is our annual Downtown Petoskey Ladies Opening Night event – a celebrated and cherished evening devoted to the does of town and all around! With deer opener occurring on November 15, hunters will be fully immersed in dreams of venison, decked out in camo and eagerly peering through rifle scopes. Hence, it's only fair that the non-hunting ladies also have something fun to look forward to!
On the 17th, the strolling party starts at 4:00 p.m. with shopping, sipping, and snacking all throughout Downtown Petoskey's Social District. Establishments on East Mitchell, Howard, East Lake, and Petoskey streets will offer complimentary nibbles and drinks while shoppers explore and set their own sights on one-of-a-kind treasures and deals.
Whether you're a solo shopper or prefer to roam the streets in packs, you'll have the opportunity to get a headstart on your holiday gift purchasing (unless you've already started, that is!) while playing games and winning prizes at the participating boutiques, shops, and stores.
During the evening's festivities – which go until 8:00 p.m. – don't forget to enter the Doe Prize Contest when you visit each retailer taking part in the fun. Just fill out your entry slip and drop it in the bucket – it's that simple – and you'll be in the running to win Downtown goodies and hundreds of bucks in Downtown Dollars! These bucks may not be white-tail, but I imagine you'll be happy with some green-backs just the same!
Now, It's hard to predict the weather this time of year in Michigan (Who are we kidding? It's always a challenge!), but whether it's drizzling, foggy, or if there's a bite in the air, popping in and out of shops, sharing laughs, and imbibing in a drink or two will keep the chill at bay while you're traversing the stores along the Little Traverse Bay! Be sure to layer with a hat, scarf, and gloves, just like those hunters hoping for the perfect shot, and perhaps shoppers and hunters alike will be victorious this upcoming Friday night.
To whet your appetite (like the promise of a venison backstrap dinner), here's the list of participating Ladies Opening Night locations: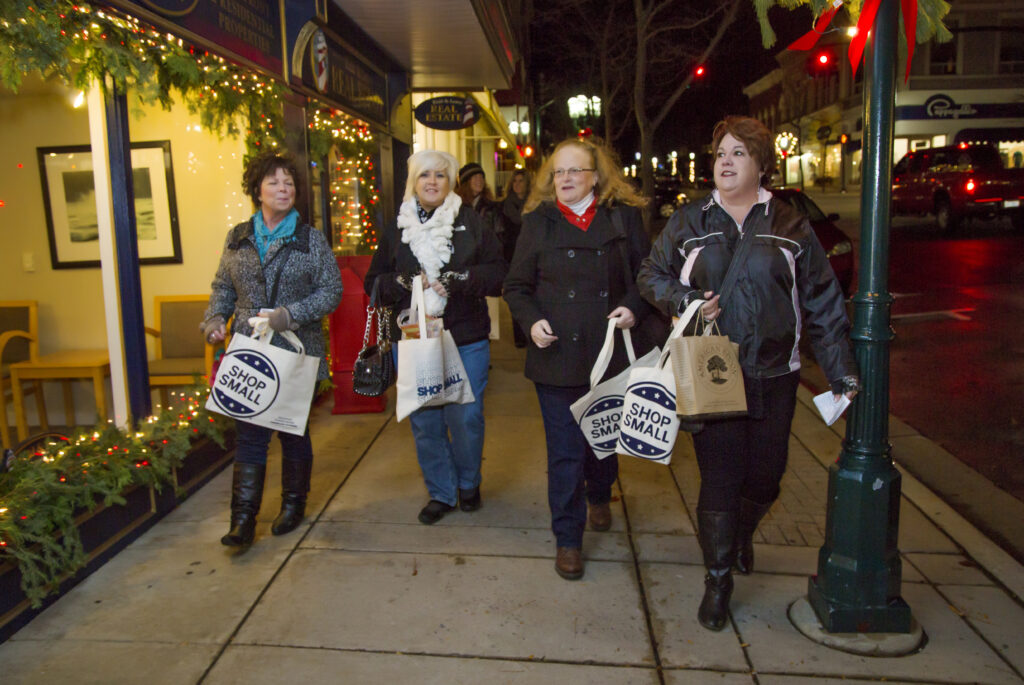 American Spoon: 10% off a purchase of $20 or more and serving up their famous chili.
Après: Sips and bites as well as special discounts! 10% of sales will be donated to the Northmen Den Youth Pantries.
August: Offering wine, light bites and a raffle for a $100 gift card and a free ornament!
Bearcub Outfitters: Spin for your discount and serving refreshments!
Boutique Boisson: Signature cocktail drink, hors d'oeuvres and free earring gift with purchase.
Bumblz Boba Tea: Stop by for the special themed drink "Lost in the Woods Spiced Chai"!
Cheekade Meekade: Providing nibbles and store discounts!
Ciao Bella! Home: Sips and snacks
Copper Aesthetics: 15% off all retail items. Hands Special: 2 syringes of Restylane Lyft for hands PLUS BBL hands for $1300 (15% off). Face Specials: 20 units of Daxxify and 1 BBL chest for $675 (about 20% savings) 20 units of Dysport and 1 BBL chest for $535 (about 20% savings). 15% off a single MOXI treatment. Sculptra special buy 3 get 1 free. Also featuring a special 'caramel apple' cocktail provided by High Five Spirits, along with raffle prizes from local vendors. Enjoy a visit from Sarah Andrie offering permanent jewelry, along with Sadie Rose Boutique.
Craig Ryan: Play a game for discounts, make your wish list and enjoy sips and snacks.
Cutler's Kitchen and Cutler's Clothing: Open for shopping!
Emma: Champagne and chocolates plus a storewide sale.
Flora Bae Home: Pouring Local Michigan Wine, providing light Hors D'oeuvre, 25% off Permanent Jewelry, 15% off all holiday decor including ornaments, 10% off Geometry Tea Towels, PLUS with any purchase you will be entered into a raffle for a solid 14k Yellow Gold Permanent Jewelry Bracelet!
Fox and Hound: Enjoy little treats & beverages, and a ring toss game for a chance to win up to 30% off your purchase.
Fustini's: Target practice for prizes and White Chicken Chili.
Grandpa Shorter's Gifts
Glik's: Enjoy nibbles and $10 off $30 (exclusions apply).
Glass Lakes Photography: Open for shopping and all of your photo and printing needs!
Haystacks: Serving their famous "Buck Balls" and Cider plus an extra 20% OFF Sale items and a FREE Gift with Purchase!
J.W. Shorter and Son
Luci and Carl's Candy Cabin
Malted Vinyl: Enjoy to-go and in lounge drink specials all night!
Meyer Ace Hardware: Finger foods and apple cider, plus 30% off all fall/Halloween/Thanksgiving items. For all the Doe's out there, if you provide a picture of a of 2023 hunting season license, you will be entered to win a gift basket in the store!
Monarch Garden & Floral: Yummy Fall themed sips, snacks and 15% storewide discount.
North Perk Coffee: Open for your caffeinated needs and 10% off Gift Certificates.
Northgoods: Offering beverages to enjoy.
Northern Michigan Axe Company: Wine and 30 minute Axe throws for only $15 a person!
PEcado: In-store drawing, champagne and nibbles.
Petoskey Pretzel: Enter the Doe Prize contest and receive a Petoskey Pretzel coupon!
Poetess and Stranger: Psychic fair, 13% off discount off regularly priced items, and chocolate!
RANDOM: Snacks and in-store prize with purchase!
Ruff Life: Snacks and drinks plus 10% off store wide.
Quiet Moose: Espresso Martinis and a fun game to win instant prizes such as gift cards, pillows, and candles! Also enjoy 15% off.
QM2: Wine and 15% off!
Somebody's Gallery: Pick a Buck from the Buck pole for a prize or discount!
Spice Merchants: Offering an abundance of samples and mulled wine/cider. Buy 3-get-one-free on certain items!
Sunglass Shoppe: Offering 20% off except Maui Jim and Zeal, serving holiday beverages, and free gift of eyeglass cleaning kits for all who stop by.
The Katydid
The Rocking Horse: 20% off store wide and gift wrapping.
Threads: Sips and bites as well as special discounts! 10% of sales will be donated to the Northmen Den Youth Pantries.
V2V: Spiked hot cider and donut holes plus a storewide sale!
All these locally owned businesses put their heart and soul into what they do – providing excellent customer service, quality products, and a strong sense of community. We hope you join Downtown Petoskey for an evening of frivolity; after all, we deserve to enjoy all the fun life in a tight-knit town has to offer!