The perfect spot for playdates, lunch breaks, and fresh air reprieves, Pennsylvania Park is a popular summer downtown destination for everyone. Here, you can find a dog to pet, a grassy spot to nap on, or a noon-time concert to listen to on Wednesdays and Fridays, courtesy of Crooked Tree Arts Center's Charlotte Ross Lee Concerts in the Park Series. The park is also a great place to eat gelato from American Spoon – just sayin'. But there are two other fantastic reasons to visit Pennsylvania Park this season, and both occur on the same day of the week!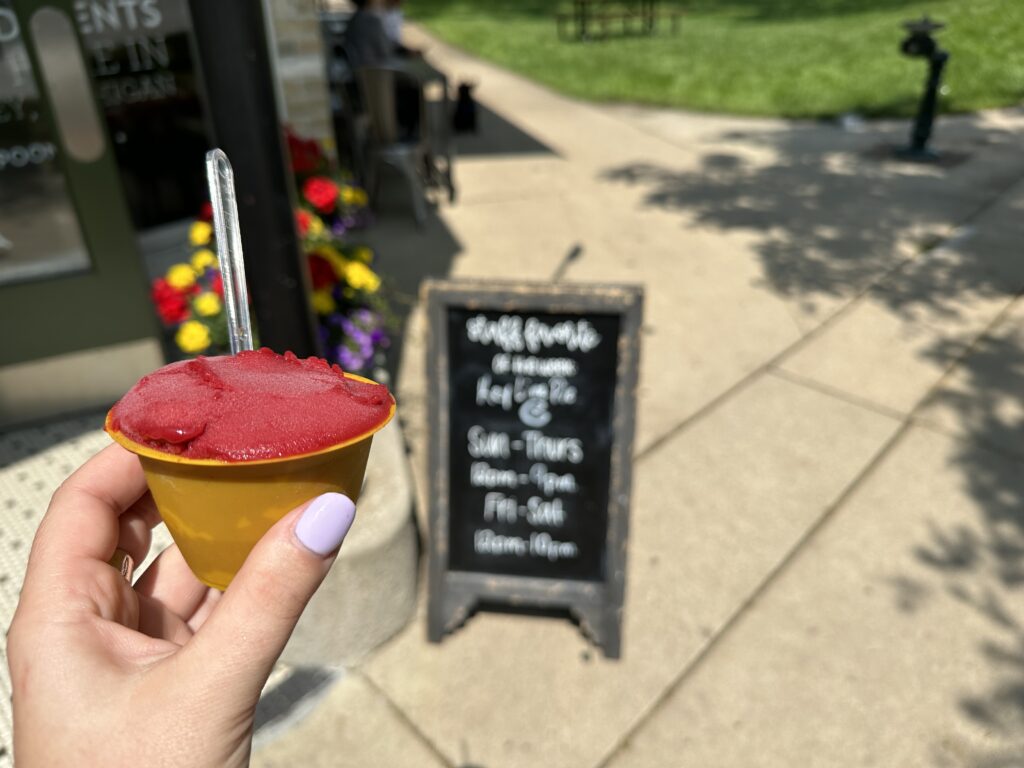 On Fridays, from now through August 18, anyone and everyone can enjoy free evening concerts and movies in the park, thanks to "Sounds of Summer" and "Movie in the Park at Dark." 
First up for these summer Friday nights is "Sounds of Summer," a collaboration between Blissfest Music Organization and Downtown Petoskey. From 7 – 8:30 p.m., live music will fill the air of Downtown Petoskey as people stroll the streets after dinner and relax in the green space. Another option is to snag some takeout and drinks and fully enjoy the Social District scene while the talented and diverse musicians do their thing! Tim Jones & Stonefolk kick off the series this Friday with their self-described Northwestern Michigan swamp-rock and Americana yacht country. Future performers include Silver Creek Revival, Bee Taylor, Luke Winslow-King, 1000 Watt Prophets, and Al Betis.
Then, following a brief breakdown and intermission, concert-goers can transition into movie-watchers when the "Movie in the Park at Dark" starts around 9:30 p.m., give or take a few minutes, depending on the dark part of the event – long summer days and all that sunshine. Between the two free evening entertainment options, you have a chance to grab a fresh drink or perhaps an ice cream treat for dessert – just make sure someone saves your spot on the grass! Set up your chairs or spread out your blanket and call "seat-saver" before trotting off. After all, the cushy ground in front of the inflatable screen is prime real estate!
The movie gracing the screen this Friday is "Holes," and other summer flicks to be shown include "Ferris Bueller's Day Off," "Top Gun: Maverick," and "The Super Mario Bros. Movie," among others. This fun family tradition, reminiscent of the days of drive-ins, has been going on since 2013 and continues to be a favorite among all ages.
"We are so thrilled this has been a wonderful community favorite for a decade now, both for our local community and visitors! Our first movie was a great success with over 80 people in attendance!" shares Downtown Petoskey Marketing and Promotions Director Andi Symonds. "This year, we have our sponsors handing out treats and goodies during most of the movies which is so wonderful and an added bonus to this free, family-friendly event!"
Thank you to our "Movie in the Park at Dark" sponsors: Fox & Hound, Petoskey District Library, Wolverine Cabinet Co., Musik Haus, Grandpa Shorter's Gifts, Great Lakes Orthodontics, Bearcub Outfitters, Murdick's, Meyer Ace Hardware, and Northgoods.
So, bring your blankets, chairs, snacks, and beverages and experience fun Friday nights in Pennsylvania Park – your eyes and ears won't be disappointed!