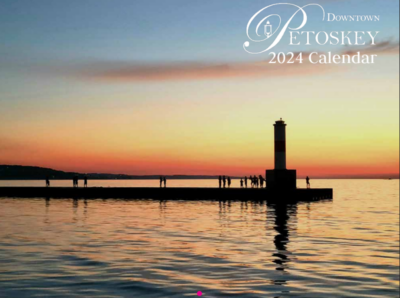 📆 Introducing the Spectacular Downtown Petoskey Calendar! 📆
Capture the timeless charm of Downtown Petoskey all year round with our first-ever, highly anticipated annual calendar! We're thrilled to showcase the breathtaking photography of talented local artists and enthusiastic visitors who participated in our esteemed contest. Brace yourself for a visual journey through the heart and soul of Petoskey as each month unveils a captivating new perspective of this vibrant town.
A Year of Downtown Delights: As you flip the pages of our calendar, you'll embark on a year-long adventure through the captivating landscapes, lively events, and bustling streets of Downtown Petoskey. Whether it's the blooming colors of spring, the warm embrace of summer, the vibrant foliage of fall, or the serene winter wonderland, you'll witness the transformation of this beloved town with every passing month.
The Perfect Gift: Looking for a unique gift that will leave a lasting impression? Our Downtown Petoskey Calendar is an ideal choice! Whether it's for family, friends, colleagues, or fellow Petoskey enthusiasts, this exquisite calendar is bound to bring joy and inspire fond memories throughout the year. Share the beauty and charm of Downtown Petoskey with your loved ones, and let them experience the magic for themselves.
Limited Edition: Don't miss out on the opportunity to own a piece of Downtown Petoskey history! Our calendar is a limited edition, and once it's gone, it's gone. Secure your copy today and cherish this collector's item for years to come. Whether you're a proud local resident or a passionate admirer from afar, this calendar is a must-have addition to your collection.
Act Now and Order: Experience the captivating allure of Downtown Petoskey every day of the year! Order your copy of the first annual Downtown Petoskey Calendar now and immerse yourself in the beauty and wonder that this extraordinary town has to offer. Don't wait, as supplies are limited, and demand is high. Get ready to be captivated by the magic and charm of Downtown Petoskey, one month at a time!
Pick up your copy of the Downtown Petoskey Calendar at one of these downtown stores: